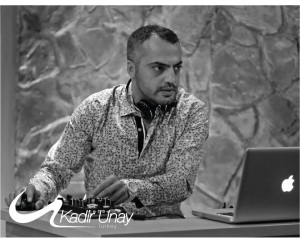 Kadir Unay (Turkey) has been Djing for 5 years. He is fan of Rodolfo Biagi. He listens the floor and he plays accordingly. He likes to play Golden Age but he is not strict on this.
He likes to make contrasts in the mood and he selects cortinas distinctively.
His Dj Performances: Remolino Tango Dj Festival Lviv Ukraine, Chill Out Tango Marathon Antalya Turkey, Sultans Tango Marathon&Festival İstanbul Turkey, Bigfoot Tango Marathon Istanbul Turkey, Amarcord Tango Marathon Bologna Italy, Tango Lovers Festival Athens Greece, İzmir Tango Marathon Turkey, North Greece Tango Marathon Thessaloniki Greece, Tangoist New Year Marathon Istanbul Turkey, Kalamata Tango Festival Greece, Cairo Tango Festival Egypt, Puente Tango Festival Eskisehir Turkey, Summer Tango Fest Bodrum Turkey Ankara, Tango Meeting Turkey, Tango Moods Marathon Bodrum Turkey, Bien De Marathon Ankara Turkey, Marathona TangoPiccante Italy, Sunset Tango Marathon Chalkidiki Greece, Autumn Tangomania Festival Kharkov Ukraine, Tango Atlantico Porto Portugal, Milonga Siempre Nicosia Cyprus, Milonga San Marco Donetsk Ukraine, Milonga Loca Antalya Turkey, Milonga Tango Fix Athens Greece (Facundo Pinero & Vanesa Villalba show), Milonga El Cabeceo Athens Greece Milonga Fever Reloaded (Sabrina Ruben Veliz show) Athens Greece.